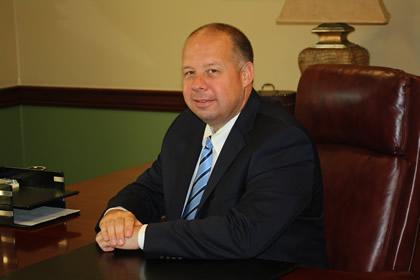 Welcome to Bank of Jamestown.
Within these website pages is the unfolding story of a community bank, dedicated to the finest principles of true community banking. We are deeply vested in this wonderful area we call home. We are located in Russell County, in South Central Kentucky on the banks of beautiful Lake Cumberland.
Bank of Jamestown's roots date back to 1899. Fast forward to over 120 years later, we still remain strong in our commitment to serving the needs of the Russell County residents and businesses. We continue the long-standing tradition of being an independent, locally-owned, full service community bank that focuses on the importance of local relationships and superior customer service. Your banking relationships with us, boosts economic growth in our local communities by creating jobs at our bank that are filled by your neighbors. By banking locally with us, you can rest assured that you are having a strong and direct impact on your local community.
Bank of Jamestown is here to provide the banking services you will need for your life. We are large enough to help, but small enough to take time to smile and say hello. Our goal as a community bank is to offer the quality products and services that today's banking customer needs to achieve their financial goals. With decision making of "Hometown" people, while also having products and services that you would expect from a larger bank. We offer the ability to manage your finances online. While keeping track of all of your financial needs through your phone or computer, our services are fast, safe, secure, and available day or night. We offer a full range of deposit and loan products along with ATM's at all of our banking offices.
Most importantly, I would like to express our thanks to you, our customers. You are appreciated and valued, and I am proud to say that each of our employees will work hard to ensure that your experience with Bank of Jamestown is an enjoyable one. After all, we're not just your bankers — we're your neighbors! Great service starts with great people. We are proud of our employees and their passion for going beyond the call of duty for both their customers and their communities. Our aim is to make your banking experience one of simplicity and convenience. We will, as we have done since we opened our doors in 1899, continue our mission of providing you with exceptional personalized service every step of the way. I hope you will let us serve you at one of our 3 locations throughout Russell County.
Sincerely,
Terry Ray Cochran
Chief Executive Officer